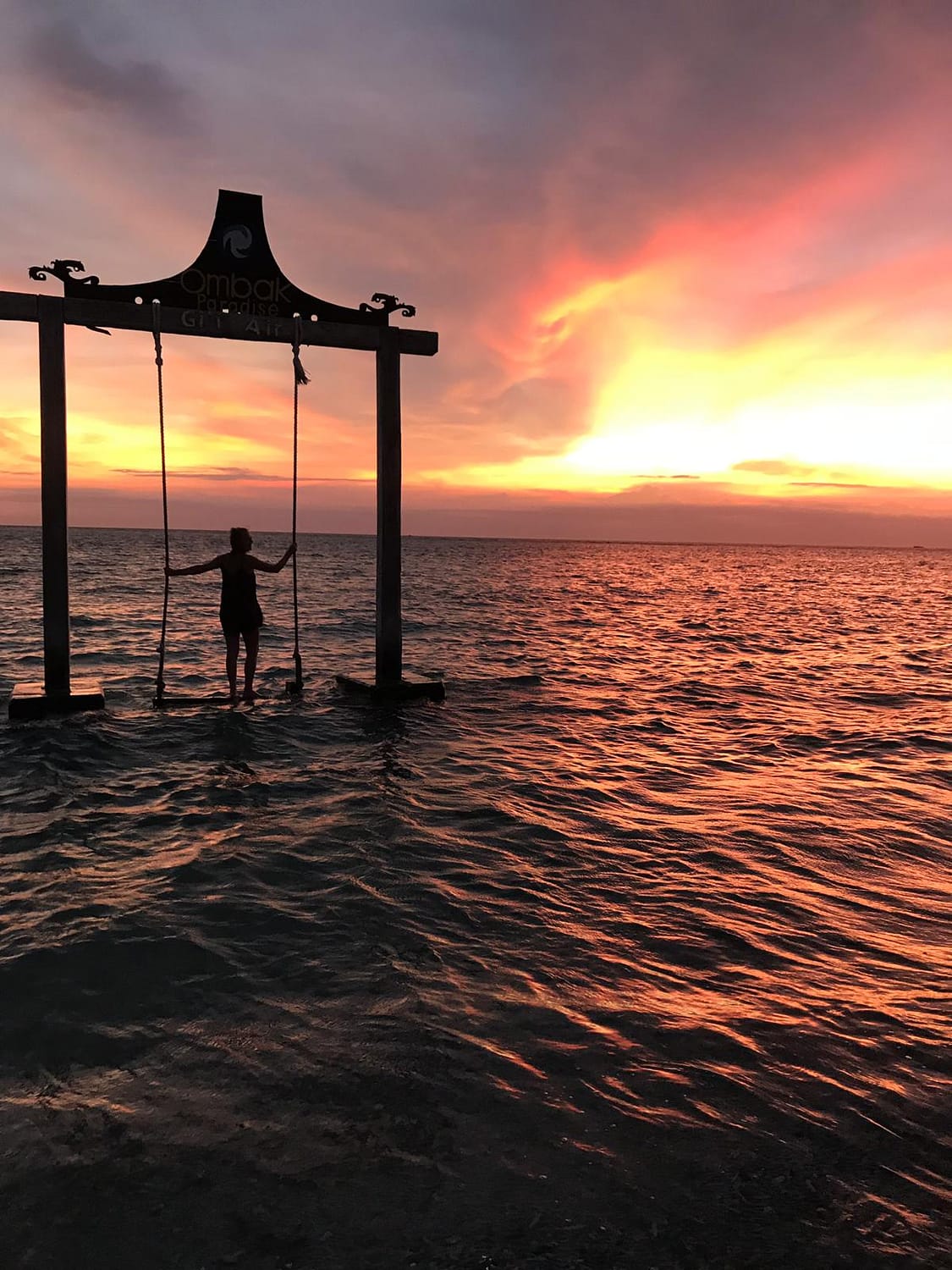 The Gilis are back up and running!
Due to the earthquakes of last summer, the number of tourists on the Gili islands has decreased considerably. Buildings have collapsed and the inhabitants would like to rebuild them. Without tourists, they have no income and without income they can hardly rebuild their lives there. The Gilis have been closed for two weeks but have been open again for holidaymakers and backpackers since September and we can certainly recommend going there for a few days.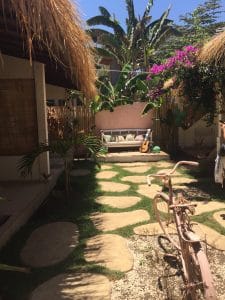 Because of our internship in Bali, we could only enjoy these islands for 3 days. If you have longer time, I would recommend to spend 1 or 2 days longer for this trip. We started our journey in Padang Bai where we took the boat to Gili Trawangan. With seven girls, we boarded the boat to moor one and a half hours later on Gili Trawangan a.k.a Gili T. Life there is very different. There are no cars or scooters, but horses and carriage! Our first home on Gili T was within walking distance from the harbor and we slept in 4 nice little rooms nicely decorated with pastel pineapples and we got a real hippie vibe.
The main street of Gili T is located on the beach where all nice cafes and bars are. We went for lunch at Kayu Cafe. Very environmentally conscious place! I had the veggie avo toast and there was everything you need. Avo, egg, feta, sundried tomatoes, mushrooms, it was great!
To make it easier to move around the island you can rent a bike, for only 40,000 rupees per day, which is € 2.50 converted, you can rent a bike. Besides the beautiful beaches on Gili T there is not much to do. We are just going to enjoy the sun on the beach. To see the sunset you have to be a little bit further to the south on the island. With a clear sky you can see in the distance the Mount Agung, the highest mountain in Bali, unfortunately we had less luck because it was cloudy. In the evening, we ate and drank very cheaply during the happy hour. What you, as a student, would love to do during your internship. After the happy hour we went to the bar next door, Sama Sama, nice atmosphere, live reggae band and good music. All bars and clubs close here around 12-1 o'clock, except for the Sand bar. This bar is open for up to 3 hours. From Sama Sama, we have actually moved a little to the left every time until we finally ended at the Sand bar.
After a wild night, we were already early out of our bed for the snorkel tour! We sailed past three points and then we got a lunch at Gili Air. Here we stayed because we had our next guesthouse on this island.
Back to the snorkeling. The first point was with the famous statues under water between the islands Trawangan and Meno. It looked very impressive and you still get a little creepy feeling though. Although the statues were very nice, you were still fighting in the water against the strong currents and you were trying to avoid the fins of the other snorkelers. In short, it is better to go as early as possible so that there are not many other people. The second stop was also really crazy. This was "Turtle Point" and we saw a lot of turtles. I think about 6 or 7. The first one we saw, lay on the bottom which makes them difficult to see. Afterwards, we also seen swimming turtles and this is really crazy! It is really peaceful to see them swimming through the water. At the third point we did not go into the water anymore. The waves were very high here and the current was too strong.
Once on Air, we went to our second guest house and were received with a welcome drink. Then we rented bikes and we went cycling around the island. Because of our Dutch roots, I thought this would be okay, but this was a big disappointment. The roads were bumpy and almost impossible to cycle. The bike itself was also outdated and this reminded me back to my own bike in the Netherlands.
We sat there on the beach and looked at the most beautiful sunset I have seen in my life.  Then we went to dinner and after we watched a movie on the beach. Again a good evening.
On Sunday we went to the beach, after which we had to go back to the boat that brought us back to Bali.