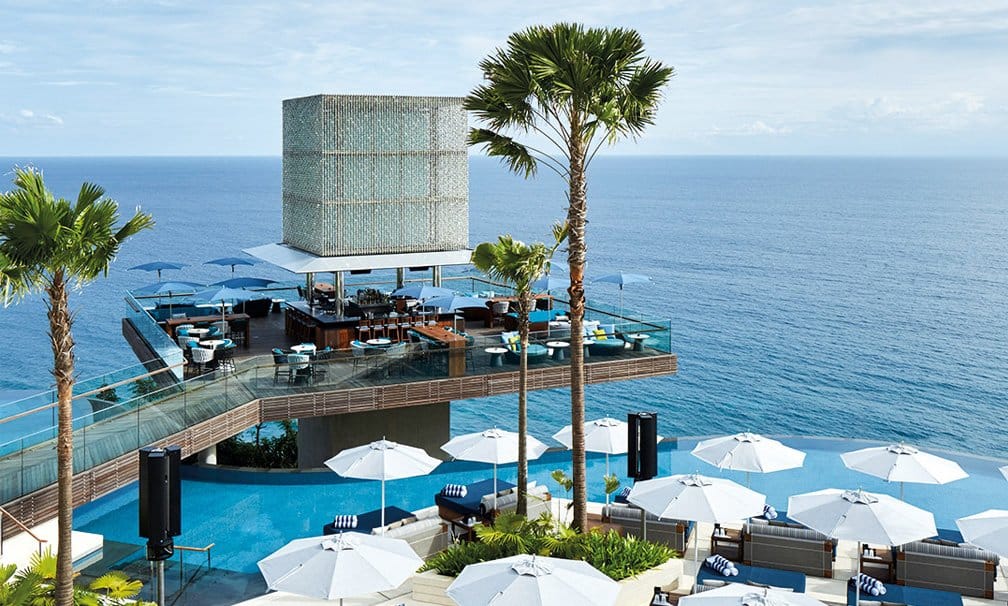 TOP 10 BEACH AND DAY CLUBS IN BALI
Finns Beach Club
This beach club in Canggu is built from sustainable bamboo materials. You can relax on a single or double bed and swim in an infinity pool with swim up bar and speakers built under water. This is the best place to spend your afternoon with one of the cocktails or dine with friends in their bamboo diner area. Whether you are an expat on Bali or just a tourist visiting Bali, it is definitely worth a visit.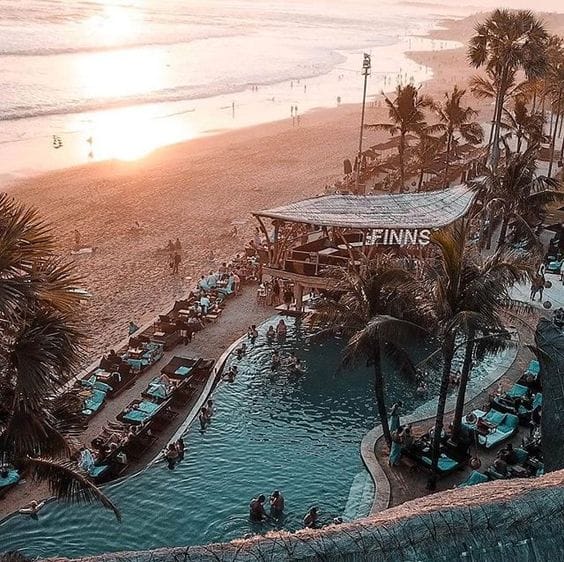 Wanna Jungle Pool and Bar
Actually, this is not really a beach club, but the view is amazing, so we couldn't not mention it. This club in Ubud has different swimming pools at different levels. It just opened in August, so it is still a bit unexplored for tourists, but the place is definitely instagrammable. If you want to visit this hidden treasure, be quick because this place will be explored sooner than you think.
Dtukad River Club
Another still hidden pearl is Dtukad River Club. This club is also not by the sea, but at the river and close to the Tegenungan waterfalls. So, you can combine this by visiting the waterfalls and afterwards relax in this club. If you are into R&B music, then you will love this place. By hearing old hits, you can swim in the infinity pool and can watch over the river. There is even a swing which would make you jump into it.
Potato Head
Potato Head is one of the most famous beach clubs of Bali. When you go to Bali, you must visit Potato Head. Whether you go to party, or go with your kids, it is both possible at this beach club. Potato head is located on the best stretch of beach, where a lot of famous beach clubs are, but this is not the only reason for success. This unique architecture is great ambiance while you are enjoying your cocktail in the infinity pool listening to nice music.
Ku De Ta
Luxury and elegance can be found in Seminyak at Ku De Ta. The perfect place to sun, lounge, dance and dine while the sun sets. The restaurant of Ku De Ta is at the rooftop of the beach club and provides an excellent quality of food. At the bar you can drink high-class cocktails and listen to the music provided by the in-house director which has the best music for every occasion.
La Brisa
Let's get Spanish! In the North of Bali, you can find La Brisa. This means "sea breeze' in Spanish. Every corner and every place look fabulous with the real Balinese hospitality. La Brisa is built of the wood of 500 old fisherman boat and is decorated by hand. This eco-friendly built beach club serves sustainable food which come directly out of the sea. La Brisa is part of the Spanish Familia in Bali, which includes La Favela, La Plancha and La Laguna. These guys are familiar with combining the Balinese traditions with a mixture of España.
Tropicola
This new bee in Bali is also located on the golden stretch of beach in Seminyak. While you are laying on your flamingo, you drink a piña colada and enjoy the bright colours of its decoration. This beach club is straight out of retro Miami with in the central pool as heart of the club.  Tropicola's menu is orientated on the sea and has a focus on seafood, wood-fired grills, but also the all-time favourites burgers and hot-dogs and bite-sized flavourful dishes.
Sundays Beach Club
On the white sandy beach all the way in the south of Uluwatu, you can find Sundays Beach Club. When you are done with relaxing at the pool, you can go kayaking or stand up paddle board when it is low tide. Swim or snorkel in crystal clear lagoon. You can dine fine at the Sundays Beach club. They serve light meals like salads or main dishes like pizza. Take an icy granita drink to keep it cool or choose for a milkshake oreo, which are loved by kids as well.
Omnia Dayclub
More West from Sundays Beach Club, there is Omnia which is also located on a cliff in Uluwatu. This day club is part of the Omnia nightclubs group worldwide, so they know how to party. This day club is not easy to assess but it is worth a visit. You don't have to pay entrance fee at this club and you get an amazing pool and great music for free. The club is clean, spacious and the staff is very friendly. Next to Omnia, there is a fine Japanese restaurant where you can eat traditional Japanese dishes in a modern way.
Vue Beach Club
Related to the Lv8 Hotel, at the beach of Canggu, Vue Beach club is located. With its massive infinity pool, you can swim or lay down on the round sunbeds. The minimum spend of these beds are 350,000 which is not that expensive as at other beach clubs. With a cosmopolitan cocktail you can enjoy music like house or electronic spinned by international DJs.