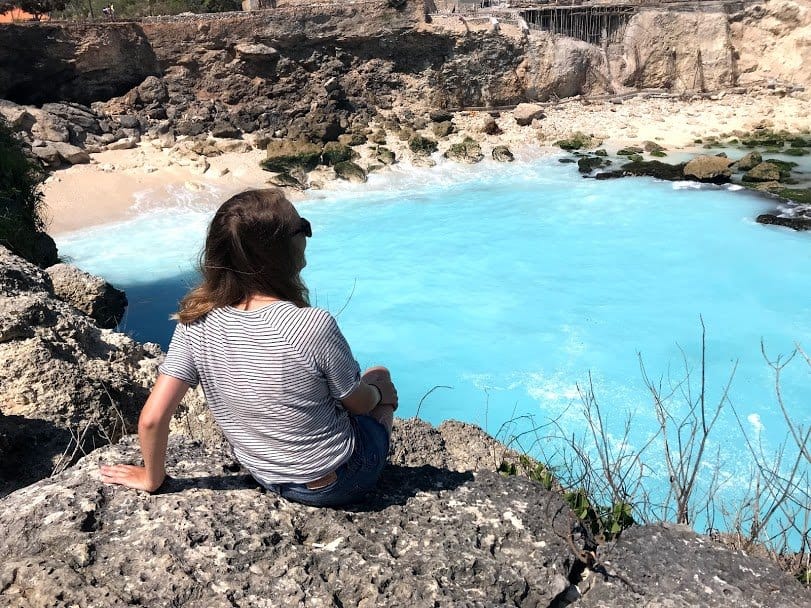 Let's go to Lembongan!
This weekend we went to the small islands of Bali, Nusa Lembongan and Nusa Ceningan. We were picked up by the service of the ferry around 8. For around 450,000 we were picked up, the ferry, brought to our hotel and this retour! With the ferry we went to the first and the biggest island, Lembongan, there we were picked up with an open car which brought us to the Jembatan Kuning a.k.a. the yellow bridge.
You have to cross the bridge by scooter or by foot because it is too small for cars. It is almost impossible to pass another scooter. After the bridge we could sit in another car which brought us to our hotel. This service is really good!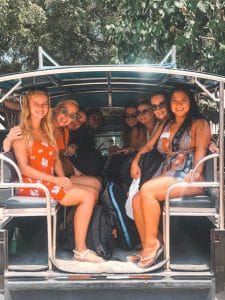 Our hotel, Ocean Sunset Villa's, was clean and cosy. We had 4 cottages with an ocean view. It was not big, but we had everything we needed. The outside bathroom was a plus for me!
After we dropped our stuff and had lunch we went beach hopping. First, Blue Lagoon. At Blue Lagoon, no filter is needed. The baby blue sea would like you to jump into it. Unfortunately, this was not possible because of the rocks. However, this view will give you the perfect pictures.
From Blue Lagoon, we went to Mahana Point. A perfect surfer place, because of the good waves and you can jump from a cliff here. Because of the ocean the water here is very cold which we liked because it was very hot that day.
Next beach was Secret Beach. This beach we thought was a little disappointing. The view was nice but that was it. The beach was nothing really special.
In between we went to Le Pirate, a beach club with also little cottages to stay overnight. There was a good vibe here and there is an infinity pool. The drinks are nice and refreshing. I tried a juice here, and it was not that sweet, which I liked. However, it took long before we got our drinks. Most of us ordered a coke so this should be ready in a minute.
The last but not least "beach" was Devil's Tear. Because of the rocks here, the waves go into the caves and after this water is pushed out of these caves. Which looks very magical and it made you feel like Avatar. At this point, you can watch the sunset which is very beautiful. The surrounding makes it very peaceful to watch the sunset while hearing the water splashing against the rocks.
After all the beaches, we were quite hungry, so we went to La Good Bar & Grill. The food was amazing and there was also a live band and the restaurant was crowded. As starter, we ate the guacamole tortilla stacks. This was the best guacamole I have ever ate. The scrimps made this dish complete. As main dish, I had the tuna steak from the grill. It was so juicy and perfectly baked. Nothing more than good words for this food!
On day 2, we woke up early to do a snorkel tour. We were expected at the beach of Lembongan, where we went on a boat to Manta Point. The way to this Point was already amazing! In the morning dew we saw the sun shining against the cliffs which it made like a real wallpaper. With a fast speed, we drove to Manta point. Although the small annoying jellyfish here, it was incredible to see the Manta's. These big fish swim very slow, so it is not scary but amazing to see.
Afterwards, we went to two other snorkel places. Here we saw nemo and all the other fish of Finding Nemo. We even fed the fish with bread and fish food. An enormous number of fish swam to us and we were surrounded by them. It was cool to see that much fish so close. Not forget to mention that the coral was so beautiful. A lot of bright colours of coral makes you want to swim further and further.
After the snorkel tour of around 3 hours, we went for lunch on the beach. Accompanied by thousands of Chinese, we ate our sandwiches and then we went to the North of Lembongan to see the Mangrove forest.
Due to the adventures morning we had with snorkling, the mangrove was a bit of a bummer. We went into a boat and drove slowly to the peaceful mangrove for around 5 to 10 minutes. The difference is huge between the morning and afternoon.
After becoming all zen, we went back to the beach were the ferry was. We bought some nice bracelets from a 11-year-old girl who had her own stall and then it was already time to leave this island. We left Lembongan to go back to Bali.